In this day and age, it is uncommon for anyone to not have heard of streaming or live streaming an event, a service, a game session, or some other kind of program. Platforms like Youtube, Facebook Live, Instagram, TikTok, and Twitch makes doing this relatively simple. Though you can use the built-in features of these platforms. Generally, they have limited capability in comparison to other tools that are specifically designed to give you more robust and professional features to work with.
We've curated the top 5 most popular livestreaming tools that would you help you present your broadcast in the most professional manner.
1. Wirecast
Wirecast tops our list as probably the most powerful, customizable live stream and production tool that you can use. Wirecast is great for Youtube, Facebook, sports, House of Worship service streaming, and much more.
Wirecast makes it easy to engage with your audience by providing tools to build livestreaming broadcasts that fit any scenario. Whether you're streaming worship services or doing corporate events, Wirecast's feature-rich platform allows for you capture sources, create graphics, and stream to multiple platforms to reach your targeted audience.
Wirecast starts at $599, and gives you a free trial to see if it's right for you. Wirecast is easy to learn, but also isn't for the faint of heart. It is designed for you to look your very best, so studying up on production basics would benefit the user.
You can see a list of Wirecast features here: https://www.telestream.net/wirecast/overview.htm
2. Propresenter 7
Propresenter 7 is the evolved product of Renewedvision, and it is a powerhouse-product for anyone doing live production and presentations. Propresenter is a cross-platform application that you can use on both Windows and Mac. It can display lyrics, slides, video, and other media making your worship service, sporting event, studio broadcast, or live conference production easier to run.
Propresenter is easy to use and comes with advanced features to match the high quality production that technical professionals need. Propresenter allows for multi-screen display, alpha keying, and edge blending.
Propresenter has a simple licensing program that starts at $399. You can try Propresenter for free with just a watermark that will display on your output.
It really is the all-in-one solution for your visual and production needs, no matter how complex the presentation.
3. OBS Studio
OBS Studio is the result of the Open Broadcaster Software Project, and has come to be a formidable solution for live streaming. OBS Studio is a free and open source cross-platform software for video recording and live streaming your event.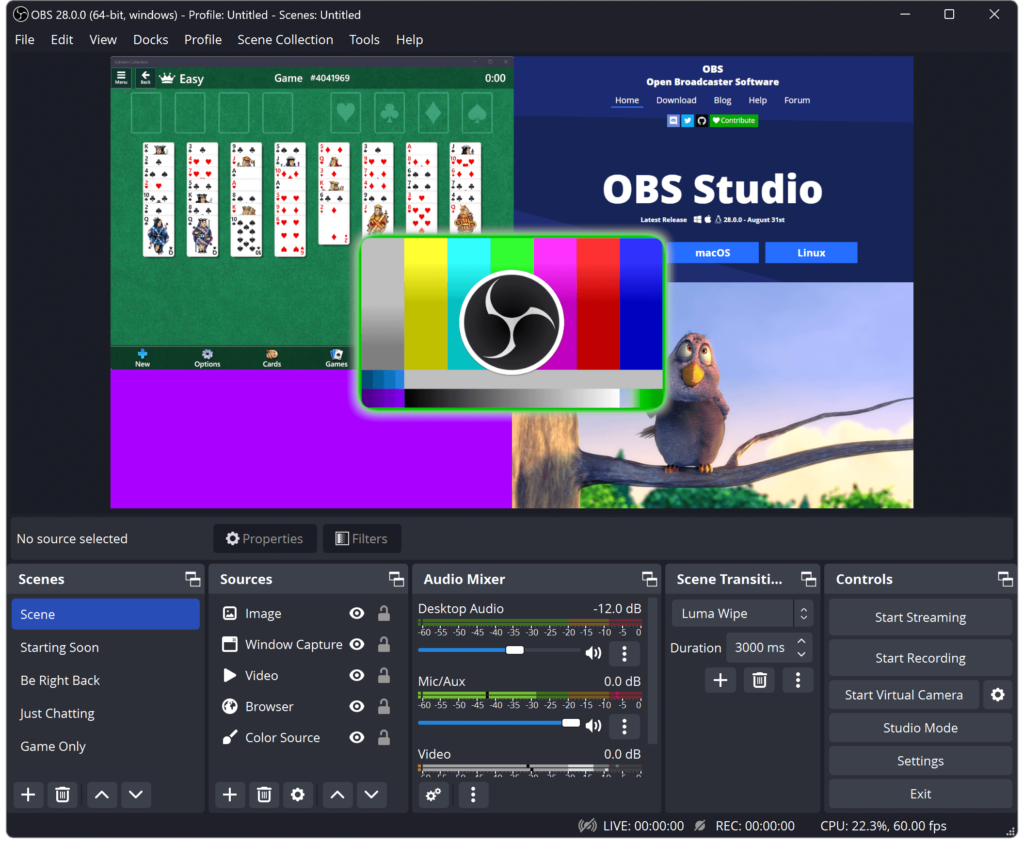 Though, OBS Studio is free, do not underestimate it's ability to provide a professional solution to your streaming needs. OBS Studio is equipped with a powerful API, enabling plugins and scripts to provide further customization and functionality specific to your needs. You can utilize native plugins for high performance integrations or scripts written with Lua or Python that interface with existing sources.
OBS supports all your favorite streaming platforms as well as being capable of recording your broadcast at the same time. If you're looking for a free, easy-to-use live streaming tool, OBS is the right choice.
4. vMix
vMix is software that allows you to create professional quality productions on your own computer. vMix features enable you to add multiple cameras, videos, images, audio, web streams, Powerpoint, titles, virtual sets, chroma key, and much more; a task previously only possible with expensive dedicated equipment. You are then able to display, record and live stream your production all at the same time!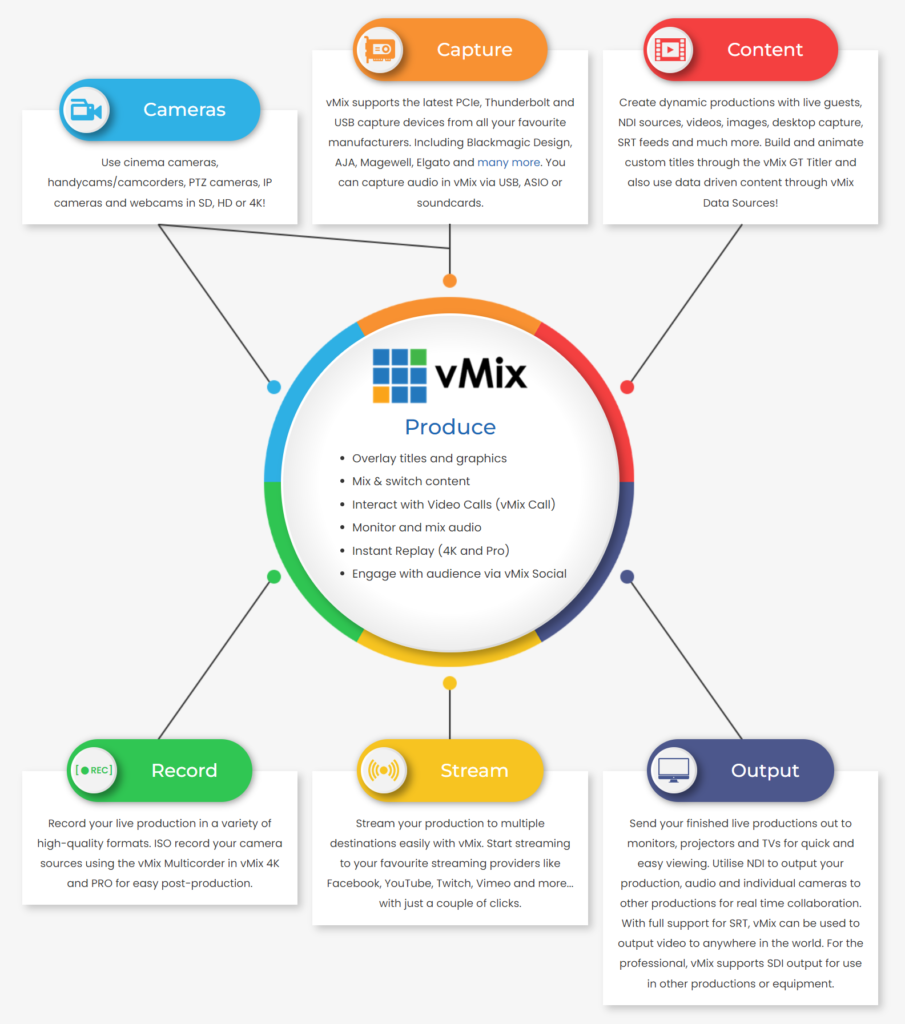 vMix runs on the Windows platform only, but utilizes the latest computer hardware advances to provide live HD video mixing. With vMix being a software solution, users can build their own custom computers to fit their production needs.
vMix starts at $60 for the Basic HD version and goes up to the PRO level product. You get 60 days to try vMix, however, which would give enough time to know if it's right for you.
Check out vMix features here: https://www.vmix.com/software/features.aspx
5. Streamyard
To round out the top five best tools for live streaming, we introduce a product that most people don't know about. Streamyard is a browser based software solution that allows for you to create robust live broadcasts to reach your intended audience.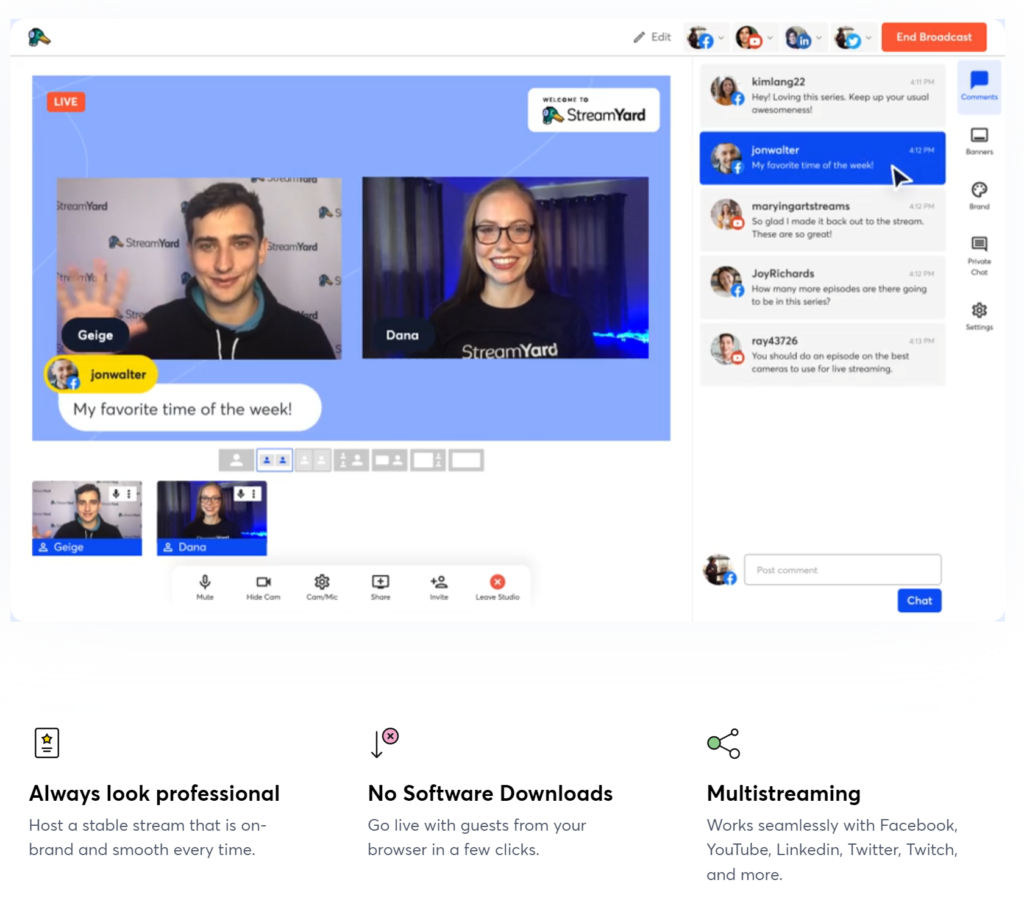 Streamyard can stream to multiple channels at once, so you can reach more people faster. It allows for strong branding and graphical design in your live stream.
The best part of Streamyard is all you need is to have a stable connection and your computer browser to broadcast your live stream.
Streamyard can be used for free or you can choose their pro version that is only $39/month. See pricing plans here.
Let's wrap it up
As you can see, there are quite a few powerful tools available to help anyone live stream or broadcast to any given audience. Each one providing different options for different situations. Which one is best is completely dependent on the individual and the need.
Price may play an important part in the decision making process, but at the end of the day, one must consider which product helps you to accomplish the ultimate goal: how do I best communicate with my audience, and does the tool help do that.