The world around us hasn't just gotten more technologically advanced. It's become more immersive and entertaining. Our thoughts not only flow out of our minds onto virtual paper, but are transformed with computers and software into short films, movies, motion graphics, and animated wonder.
Our  imaginations are only stifled by either our lack of to develop what we see, or by the medium in which we display our creations. This is where Direct-View (dv) LED technology shines brighter than ever.
Now is the time for large-format dvLED displays
Companies are adopting direct view LED displays at a greater rate instead of options like projectors or LCD video walls. Large-format dvLEDs are common in corporate meeting spaces such as boardrooms, conference rooms, and lobbies. Technology buyers like large-format dvLEDs because they:
Cost less than expected.

Are easier to install than other types of displays.

Require less maintenance than other solutions.

Bring a higher return on investment
What is the cost of ownership
The initial cost of a dvLED solution may be higher than other options, but the longevity and value-add of dvLED technology will greatly outweigh the initial cost. Considering the total cost of ownership for dvLED must be weighed to not miss out on the potential to meet or exceed your ROI.
Direct view LED is rated to run for at least 100,000 hours. So even if you run your displays 24/7, that would still be a lifespan of over 11 years. And in the case of Samsung's advanced lifecycle, testing shows that their dvLED displays will last even longer than the specified 100,000 hours.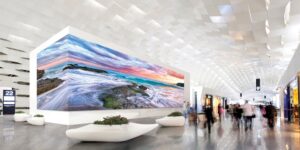 Also, one of the best things about dvLED walls is that they are virtually maintenance free. You don't have to recalibrate the panels and there are no lamps to replace. 
Installation is easier than you think
In the past, dvLED displays have been a modular solution. Integrators would install a mount, add each LED cabinet, then do seaming and alignment.
Scott Hoaglund, Senior Sales Manager for Samsung Electronics America says that is still true to a certain degree, but Samsung has simplified their dvLED displays so they are easier to install. When dvLED panels were modular, a video wall that is 110"-146" would take 3-4 days to install. Now, you can install the same-sized wall in less than a day. This is true for more manufacturers such as Samsung, LG, and Absen.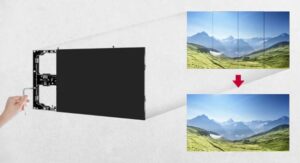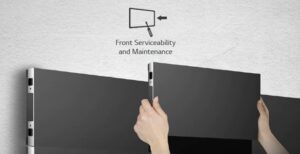 Get the dvLED support you need from Shepherd Multimedia, Inc.
Getting started with a large-format dvLED wall is as easy as 1-2-3. 
Call Shepherd Multimedia, Inc. at 972-528-93002 or contact us online at www.shepherdmedia.com

We will assess your dvLED situation, and provide the right solution for your needs.

We work directly with the manufacturer to assure all installation products including HVAC, electrical requirements, and the wall it will mount on are During the call, the team will review a comprehensive list of items that go into a dvLED installation, including HVAC, electrical requirements, and the wall that the dvLED solution will be mounted on properly accounted for. 

We confirm everything is in order before we arrive to assure that it is a safe and speedy installation